Create Elegant Sequence Diagrams with Ease
Sequence diagrams are a great way to visualize the flow of a system. But making them beautiful and presentable is not easy.
With Colibri Diagrams you can create elegant sequence diagrams from text and feel confident sharing them in your presentations with your clients, your team, your mom, or anyone else.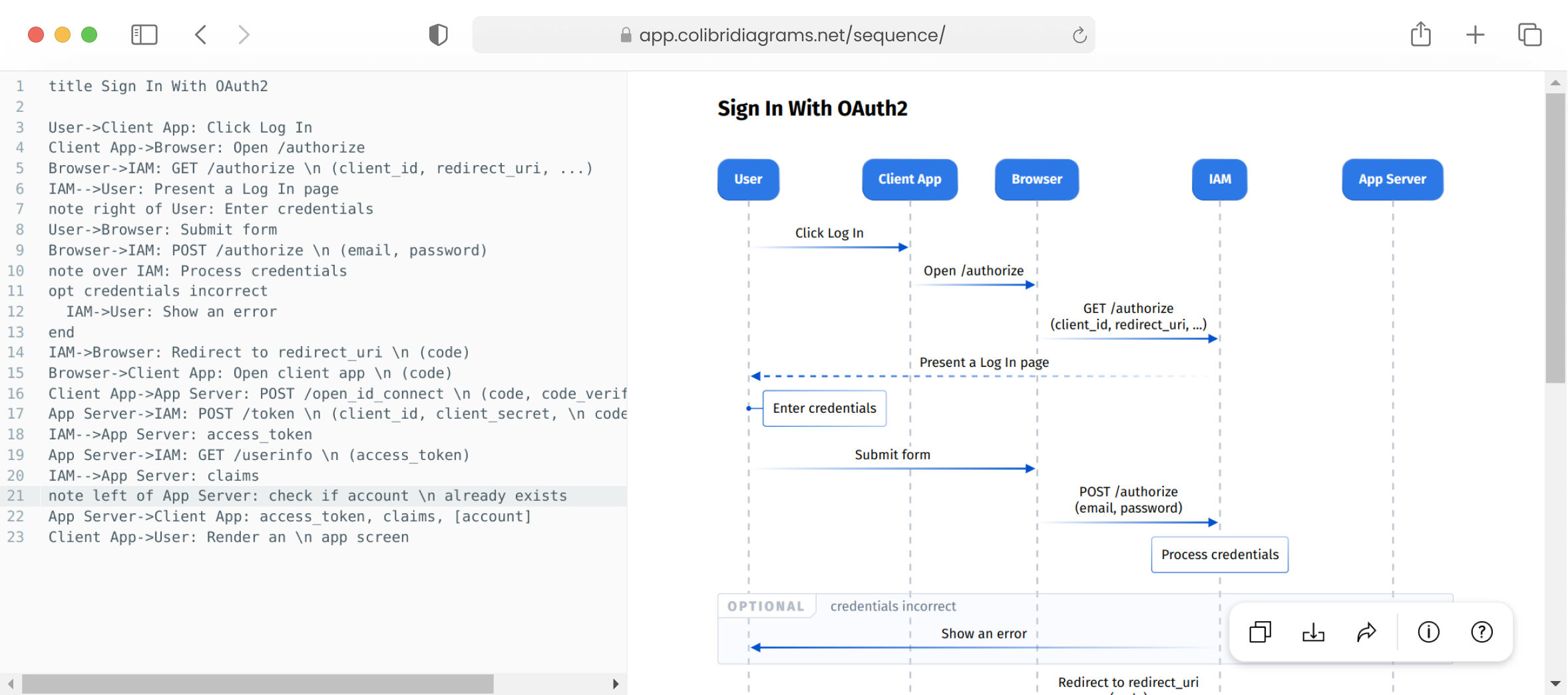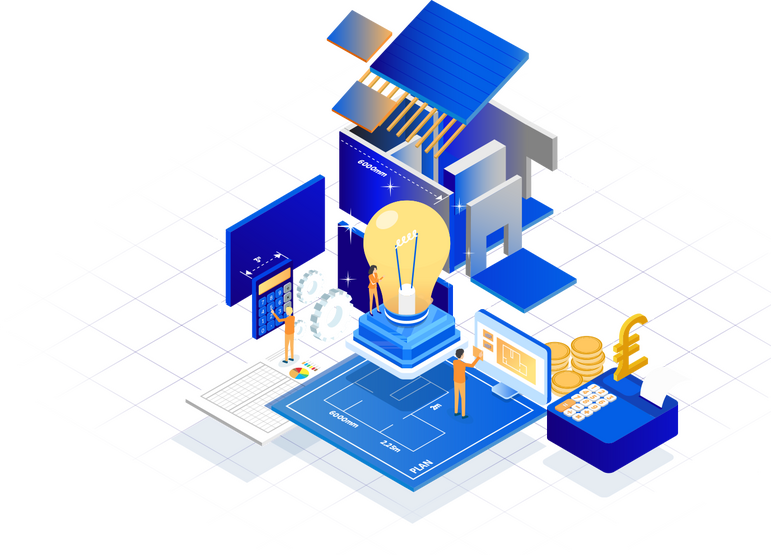 Software architects, developers, and consultants will like this tool!
Sequence diagrams are a good way to explain complex flows. That's why many software architects and consultants like to use these diagrams in their work.While there are many tools available, they typically fall into two categories: those that require a good understanding of design principles and customization, and those that offer intuitive diagram creation from text but produce mediocre designs.The former is time-consuming, while the latter fails to meet presentation standards.Colibri Diagrams aims to solve that problem.
Why Choose Colibri Diagrams?
There're many tools for building sequence diagrams, including ones that let you build diagrams from text.
Colibri Diagrams focuses on the design and user experience, not on the number of ways to connect two elements of the diagram, while still providing a sufficient set of features.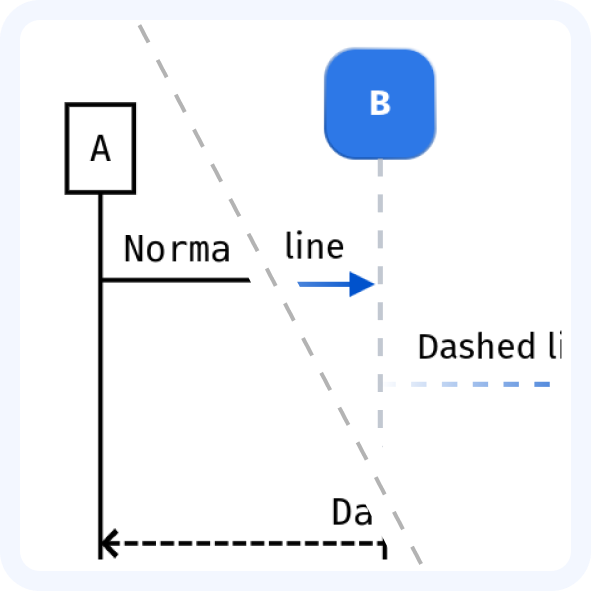 Presentable
Professional designers have been working on the design of the diagrams and the app.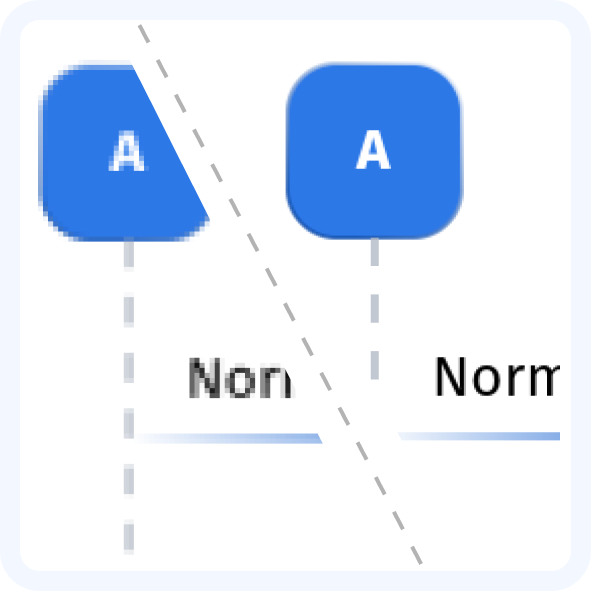 High Resolution
When you copy or download an image, you'll get it in a high resolution.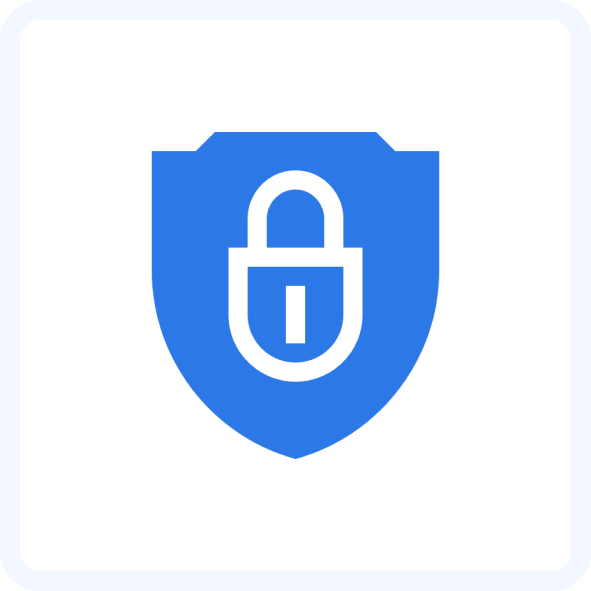 Privacy
We don't store your diagrams on our servers. They are stored in your browser.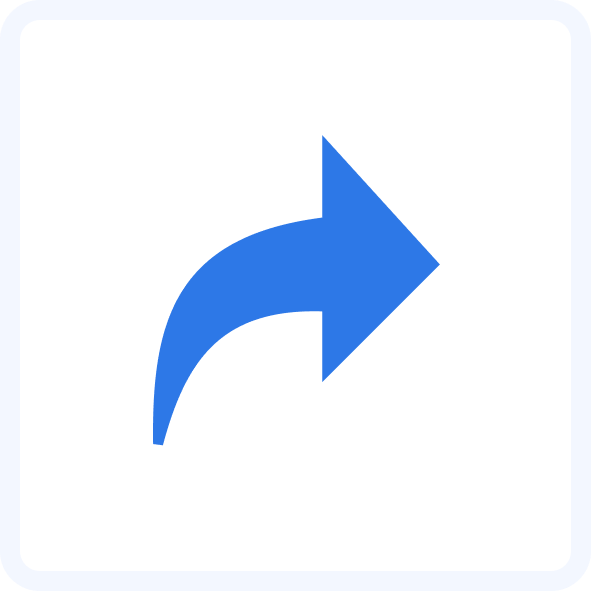 Shareable
One click to share your diagram with anyone. The diagram text will be encoded into a link.
Embed Diagrams Into Confluence
Atlassian Confluence is a great tool for collaboration.
With Colibri Diagrams for Confluence, you can easily embed diagrams in pages and collaborate with your team.
First month is free. Max price is $1 per user.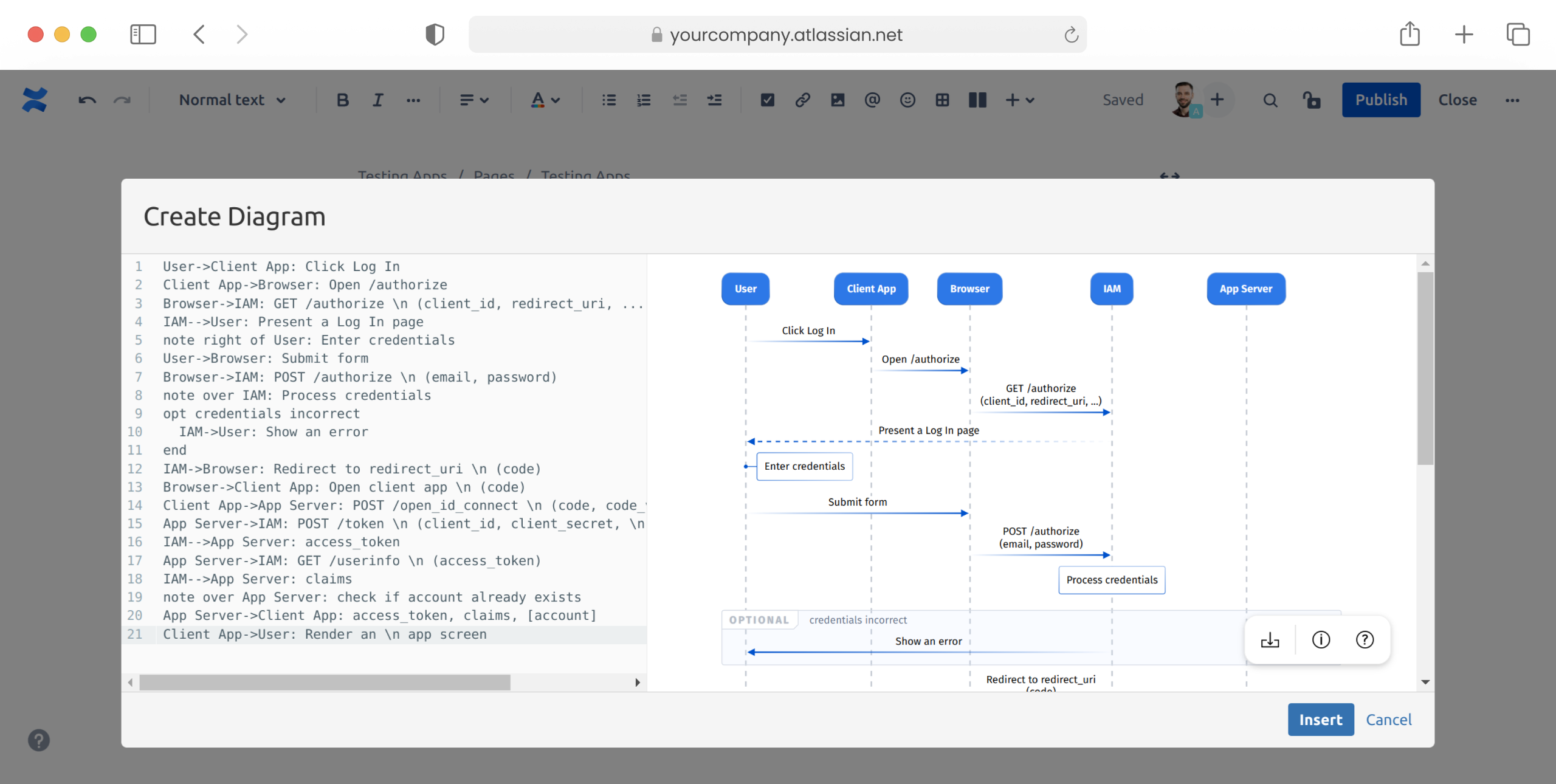 Subscribe for Feature Updates and Announcements
We will send you an email when we release a significant update. You can unsubscribe any time.
Sequence Diagram Syntax
The syntax described below will be familiar to anyone who has used tools that create diagrams from text. If you like learning from examples, you can check out the this diagram that shows all possible syntax elements.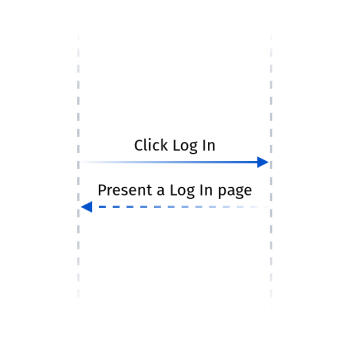 Arrows
Use -> or --> to draw a solid and a dotted line respectively.
Use \n to break a line.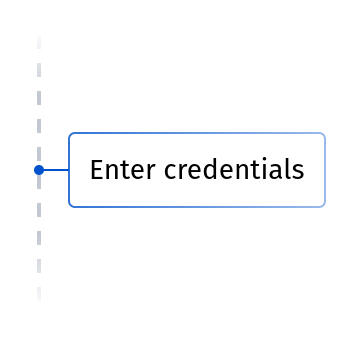 Notes
Use keyword phrases note over, note left of, note right of to draw notes. You can also write note over A, B: ... to draw a note that spans over multiple participants.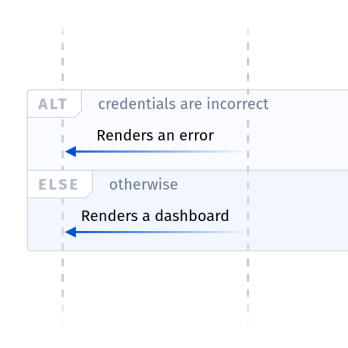 Frames
Draw a frame using keywords opt, loop, alt. Within the alt you can also draw zero or more else frames. Make sure finish the frame with end.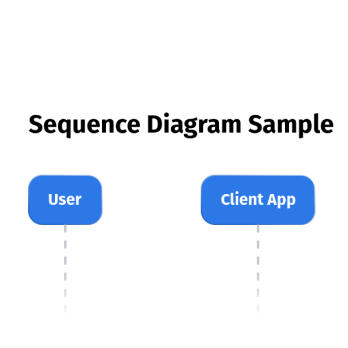 Diagram Title
Optionally you can add a title using keyword title.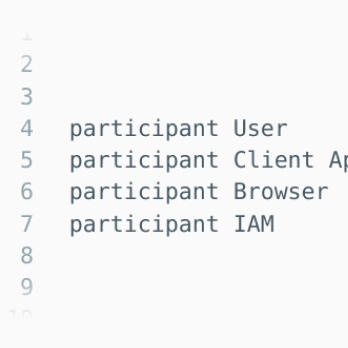 Order Participants
Use keyword participant to define a participant ordering.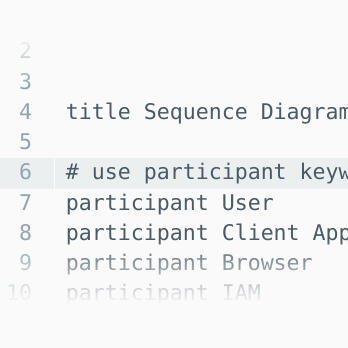 Code Comments
Use # to add a comment to your code. Comments are ignored.
Terms & Conditions
TermsBy accessing this website and Colibri Diagrams app, you are agreeing to be bound by these terms of service, all applicable laws and regulations, and agree that you are responsible for compliance with any applicable local laws. If you do not agree with any of these terms, you are prohibited from using or accessing this site and the app. The materials contained in this website are protected by applicable copyright and trademark law.DisclaimerThe materials and services on this website and Colibri Diagrams app are provided on an 'as is' basis. Colibri Diagrams makes no warranties, may it be expressed or implied, therefore negates all other warranties. Furthermore, Colibri Diagrams does not make any representations concerning the accuracy or reliability of the use of the materials or services on this website or the app.LimitationsIn no event shall Colibri Diagrams or its suppliers be liable for any damages (including, without limitation, damages for loss of data or profit, or due to business interruption) arising out of the use or inability to use the materials or services of Colibri Diagrams website or the app, even if Colibri Diagrams authorized representative has been notified orally or in writing of the possibility of such damage. Because some jurisdictions do not allow limitations on implied warranties, or limitations of liability for consequential or incidental damages, these limitations may not apply to you.OwnershipThe ownership of any data content created using the Colibri Diagrams app shall remain with the author. Colibri Diagrams does not impose any restrictions on how you use data content created using the service.Accuracy of materialsThe materials appearing on Colibri Diagrams's website could include technical, typographical, or photographic errors. Colibri Diagrams does not warrant that any of the materials on its website are accurate, complete or current. Colibri Diagrams may make changes to the materials contained on its website at any time without notice. However, Colibri Diagrams does not make any commitment to update the materials.LinksColibri Diagrams has not reviewed all of the sites linked to its website and is not responsible for the contents of any such linked site. The inclusion of any link does not imply endorsement by Colibri Diagrams of the site. Use of any such linked website is at the user's own risk.Terms of Service ModificationsColibri Diagrams may revise these terms of service for its website at any time without notice. By using this website you are agreeing to be bound by the then-current version of these terms of service.